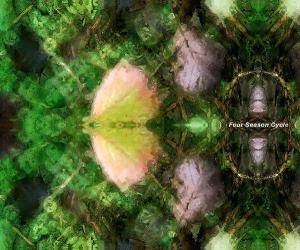 Four Season Cycle
Cycle is a collection of Photofusion artwork that captures, illustrates and portrays moments of nature's great cycle - the 4 seasons. It is not a definitive collection and as with nature it will change and grow with future cycles.
Each artwork begins with a series of photographs, something random, something composed, something noticed, a moment captured in the cycle. After a lengthy selection process the most interesting photographs are separated and grouped together ready for the next stage .
Using photo editing software all of the selected images are filtered with paint effects. They are then blended and fused back with the originals. An evolutionary process of applying effects, blending and fusing continues until I feel I have the right images for the final art.
The last process and perhaps one of the most exciting is the application of symmetry whilst constructing each final artwork.


Four Season Cycle Art book is now available at...